Waxahachie, TX, Podiatry Office
Join the Over 50,000 Happy Patients Who Have Found Relief at Family Foot & Ankle Centers
Waxahachie, TX, Podiatry Office
600 Ferris Ave., Ste. A
Waxahachie, TX 75165
Phone: 972-597-4132
Office Hours:
Thursday: 9:00 am – 5:00 pm
Our Waxahachie location is easily visible from Ferris Ave. Look for the large building with Texas Pain Physicians on top.
In our Waxahachie podiatrist office, we have in house digital x-ray for our patients. This is convenient, fast and affordable, and is the most advanced state of the art technology available.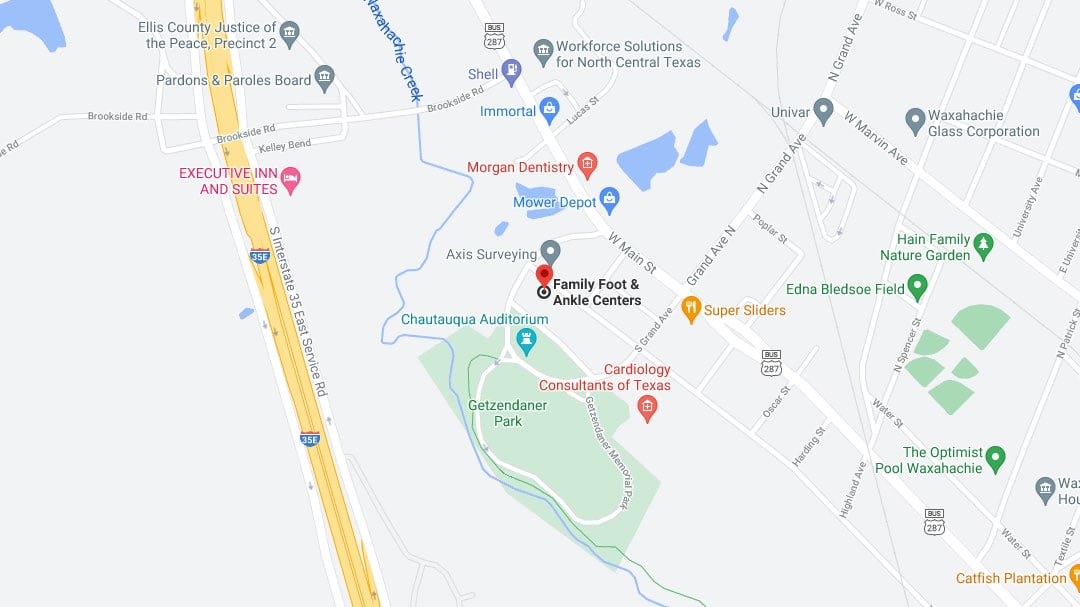 If you have any general questions or comments for us at Family Foot & Ankle Centers, please feel free to use our contact form below. If you are interested in scheduling an evaluation with our experienced podiatrists, then please click here to use our appointment request form.
*Please do not submit any Protected Health Information (PHI). This is not a secure or encrypted means of communicating with our Waxahachie, TX, podiatry office.
As the premier podiatry centers in Waxahachie, Corsicana and Ennis, TX, our foot doctors and team at Family Foot & Ankle Centers also provide 5-star podiatry care to patients in our surrounding areas.  We proudly serve patients in Navarro and Ellis counties and surrounding areas including Corsicana, Mexia, Ennis, Waxahachie, Midlothian, Desoto, Cedar Hill, Lancaster, Duncanville, Arlington and Mansfield. The Foot Specialists at Family Foot & Ankle Centers are improving lives one foot at a time.