Waxahachie Podiatrist Explains Corns.
With the amount of daily force and pressure placed on our feet every day, it's no wonder they can suffer from so many aches and pains. Our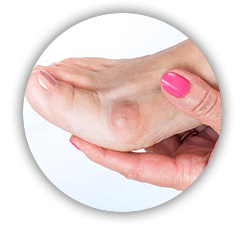 Waxahachie podiatrist, Jeffrey Petty, DPM,  sees many patients with common foot issues such as corns and callus. Let's take a closer look at both of these!
What Are Corns?
Corns are hard, thickened areas of dead skin that usually develop on the tops and sides of your toes. Although larger or deeper corns can make walking or wearing shoes painful, many people may not even notice corns and calluses on their feet.
Are There Different Types of Corns?
There are two main types of corns of the feet: hard and soft. A hard corn is described as having a small "core" of thick dead skin in the center. This core goes deep into the skin and can be very painful when walking or when touched. A soft corn on the other hand has a white surface is much thinner than a hard corn. A soft corn has a tendency to form between your toes. This is especially common on the inside of the little toe.
Your Shoes Are Almost Certainly the Culprit
While there are times that some corns develop as a result of a foot abnormality or an uneven gait, most corns are caused by improper fitting shoes that put extra pressure and friction on your toes. In fact, women who wear high heels are four times more likely to develop corns than men. People who wear sandals or shoes without socks may also develop corns due to the excess friction on the skin around the foot from the shoe's leather or rubber interior. Dr. Petty recommends standing on a piece of cardboard with your foot and trace around the foot. Cut out your foot shape and take it with you shoe shopping. If that cutout rolls up on the sides of the shoe at any point, they are not a good fit for your foot.
How to Treat Corns
Most corns eventually go away once you remove the source of friction but the podiatrists at Family Foot & Ankle Centers may want to treat your condition with additional measures at our office. When purchasing shoes we recommend that you avoid ones with cramped, pointed toes, and also make sure that you fit your shoes at the end of the day when you feet are their largest. Once the source of friction has been removed, it is important to keep the skin moisturized every evening after bathing. DO NOT use acid patches on corns. These are not warts and cannot be "killed". Too many toes have been lost the acid pads. Padding the toes is good to help relieve friction, but again, without the acid.
When to Consult Our Waxahachie Podiatrist About Corns
You should schedule an appointment to see our experienced waxahachie podiatrists in the following circumstances:
The corn gets irritated, painful, or starts to bleed.
You notice pus discharge around the area of the corn.
There is no obvious source of pressure that seems to be causing the corn to form.
You have other medical conditions such as diabetes or heart disease.
Have More Questions About Foot Care?
Our knowledgeable Ennis, Corsciana and Waxahachie podiatrists and staff have provided expert care to more than 50,000 happy Texans. Feel free to call us today at 903-872-9910 and find out how we can help you. At Family Foot & Ankle Centers, we are improving lives one foot at a time.
The information provided in this article is not meant to be medical advice and is for educational purposes only. If you would like to learn more about topics related to podiatry, feel free to contact Family Foot & Ankle Centers by clicking here or calling 972-597-4132 to reach our Waxahachie office, 903-872-9910 to reach our Corsicana office, or  972-875-3668 to reach our Ennis office.