Plantar Wart Removal Guide: How to Safely Get Rid of Them
As the most frustrating types of warts, plantar warts occur anywhere on the toes or soles of your feet. They often affect weight-bearing areas and vary in size. They can be a few millimeters to a centimeter or more in size.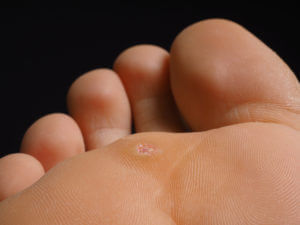 Want to continue enjoying wearing a pair of sexy open toe shoes or get a pedicure? Get rid of plantar warts. There are plantar wart removal treatments that can help you remove the bumps.  
Want to know more about these treatment methods? Keep reading! 
What Are Plantar Warts?
This refers to lesions caused by a virus that appear on the top and bottom of the foot. Also known as verrucas, it appears near a weight-bearing surface of the sole. If you have one, it will feel like a pebble or stone. 
What Causes Plantar Warts? 
Caused by the human papillomavirus, plantar warts are the most common viral infection of the skin. The human papillomavirus infects the superficial layer of the skin. It produces a thickened callus-like growth at the sole of the foot hence the name "plantar." 
If it appears on the ball of the foot or heel, it becomes more painful. Why? You will be placing pressure on the area when walking.
How to Get Rid of Warts on Feet 
Warts can resolve spontaneously. This depends on the development of immune lymphocytes which helps to destroy the virus-infected cells. If they are painful, it is wise to take steps to remove them. 
Read our informative plantar wart removal guide and learn how to remove plantar warts.
Use Over the Counter Salicylic Acid
Salicylic acid is available at the pharmacy in gel, liquid, ointment and pad form. To apply salicylic acid, soak your feet in warm water especially the affected area. Doing so enhances the effectiveness of the medication. 
Use a brush to remove overlying callus tissue. This allows the medication to penetrate the wart well. Monitor your feet closely and keep re-treating warts. Remember, you can prepare salicylic acid with white soft paraffin or with citric acid. 
Use Apple Cider Vinegar  
Take a cotton ball and soak it in apple cider vinegar. Place it over the plantar wart and hold it in place with duct tape. Allow the apple cider vinegar cotton ball to sit for a few days.
The reason apple cider vinegar is effective in plantar wart removal is that its high in acetic acid. This helps to kill several types of harmful bacteria. 
Visit a Professional Podiatrist
There are various treatment methods that a podiatrist will use. For starters, the doctor may use laser treatment. In this method, the doctor uses lasers to destroy the wart.  
The procedure is typically carried out at the physician's office and it's efficient. Problem is, it leaves some scarring. Another method is cryotherapy. 
In this method, the doctor uses liquid nitrogen. If applied well, no scarring will occur. The liquid nitrogen turns the warts black which eventually falls off after a few days. 
The last method is immunotherapy. This method is chosen for plantar warts resistant to treatment. In this method, the doctor applies dinitrochlorobenzene for patients sensitized to it. 
Other Plantar Wart Removal Methods
There are more plantar wart removal methods administered by the physician. You have chemotherapeutic agents like bleomycin injected directly into the wart. You also have a curettage and desiccation method.  
Remember, all treatment methods rely on your immune system to respond to the annoying plantar warts. 
If you are in search of professional podiatrists, contact us today and schedule your free appointment.
The information provided in this article is not meant to be medical advice and is for educational purposes only. If you would like to learn more about topics related to podiatry, feel free to contact Family Foot & Ankle Centers by clicking here or calling 972-597-4132 to reach our Waxahachie office, 903-872-9910 to reach our Corsicana office, or  972-875-3668 to reach our Ennis office.