Joint Pain in the Toes and Feet
There are several types of arthritis affecting the feet and toes seen at Family Foot & Ankle Centers. The foot has over 30 joints making it a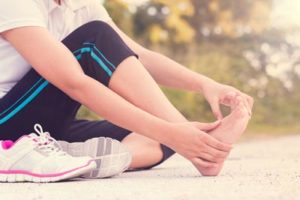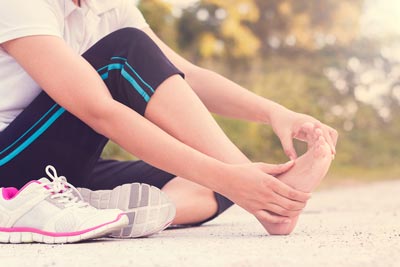 prime location for arthritis. As a matter of fact, the feet is the most common place for arthritis to develop. After all, the feet are responsible for supporting our entire body weight and cushions against high-impact activities such as running and jumping.
Osteoarthritis is the most common disease that affects the joints in our feet. It causes inflammation and destroys the cartilage in the joints. This causes swelling and stiffness. Swelling makes simple movements such as walking or standing painful. Inflammation irritates surrounding nerves causing significant pain.
Gout arthritis is more commonly found in men than women. This type of arthritis is due largely to lifestyle habits rather than breakdown of cartilage. Leading causes of gout arthritis includes alcohol, eating too much meat (protein) and being overweight.
Rheumatoid arthritis is less common but can cause serious foot deformities. It can lead to crippling foot problems making it difficult if not unbearable to walk. Rheumatoid arthritis is very unpredictable and may be disabling for one person and not worsen in another. With Rheumatoid arthritis, foot and toe deformities are common include the formation of hammertoes, claw toes and bunions.
Treatment options and management of foot arthritis is easier when diagnosed early. This is why visiting the Podiatrists at Family Foot & Ankle Centers is recommended when the first signs of arthritis is observed. Jeffrey Petty, DPM is a podiatrist who has specialized in helping over 50,000 people with foot disorders in Texas since 1999.
Do You Have Arthritis Symptoms?
Morning stiffness – foot joints that are hard to move in the morning. It can be a sign of degenerative arthritis that starts from a few minutes in the morning and goes on for a few hours longer as the disease progresses.
Numbness and tingling – inflammation affect from the joints surrounding nerves that can cause a burning or tingling sensation.
Pain – stiffness is usually accompanied by some pain. Inflammation in the joints can irritate surrounding nerves. It can also damage tissues and cartilage.
Swelling- this is a clear indication of inflammation in the joints. Noted most in the toes and ankle
Arthritis is a debilitating disease that can have a huge impact on a person's quality of life. A quick visit to a podiatrist could give you more information about the effects of arthritis and its treatments. Arthritis can be treated and treated effectively! We are improving lives one foot at at time. Come see us at one of our locations in Waxahachie, Ennis or Corsicana today.
The information provided in this article is not meant to be medical advice and is for educational purposes only. If you would like to learn more about topics related to podiatry, feel free to contact Family Foot & Ankle Centers by clicking here or calling 972-597-4132 to reach our Waxahachie office, 903-872-9910 to reach our Corsicana office, or  972-875-3668 to reach our Ennis office.