Heel pain in children can be caused by Sever's disease or calcaneal apophysitis. This condition is characterized by the inflammation of the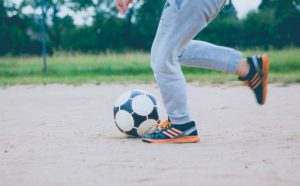 heel growth plate. The feet undergoes many changes during our childhood years. Rapid bone growth and development happens but the heels do not develop as quickly.
Wearing shoes with good foot support at the foot bed and heels is an easy way to prevent Sever's Disease. This is advised especially for children who actively participate in sports and other strenuous activities. Sever's disease usually goes away as the feet and heels becomes fully developed.
Foot Doctor Discusses Types of Heel Pain
Sever's Disease
Sever's disease is a foot condition in children caused by the inflammation of the developing heel growth plate. This can be seen child athletes or children who actively participate in activities that expose the heels to repeated abuse. It is common among children aged 8 to 14 years who have still to develop their heel growth plates completely.
It is not clear how Sever's disease develops but this is most likely caused by repeated trauma to the developing heel growth plates. This can be compounded by not wearing footwear without proper support. Children who are overweight are also at high risk for developing Sever's disease.
Visit a podiatrist for more information about Sever's disease. Jeffrey Petty, DPM is a podiatrist who specializes in helping children suffering from Sever's disease.
Symptoms of Sever's Disease Heel Pain
This foot condition causes severe pain at the back of the heel. This can be aggravated by flexing the ankles or by pushing the feet down. Swelling and tenderness in the heel area can be seen in those suffering from severe cases.
Possible Causes of Heel Pain in Children
Although heel pain is commonly traced to Sever's disease, it can also be caused by other foot conditions. And this is where the services of a podiatrist becomes invaluable. The foot specialist can help identify possible causes and create a treatment regimen. Causes of heel pain include overuse injuries, fractures and Achilles bursitis.
What should you do about heel pain?
Children with heel pain should immediately stop any activities that involve heavy foot movements. Wearing shoes that provide foot and heel support is also advised. Using a heel cup or foot insert helps absorbed extreme stresses on the heels. You can also use an ice pack to relieve pain in the heels. Pain medications and Non-Steroidal Anti-Inflammatory Drugs can also reduce inflammation in the heel area.
Consult one of our top rated podiatrists at Family Foot & Ankle Centers if heel pain persists even after treatment. 
The information provided in this article is not meant to be medical advice and is for educational purposes only. If you would like to learn more about topics related to podiatry, feel free to contact Family Foot & Ankle Centers by clicking here or calling 972-597-4132 to reach our Waxahachie office, 903-872-9910 to reach our Corsicana office, or  972-875-3668 to reach our Ennis office.