Heel pain in adults is most often caused by a condition called plantar fasciitis. Plantar fasciitis is an inflammation of the ligament (the plantar fascia ligament) that supports the arch and attaches into the bottom of the heel. Repeated strain on the plantar fascia can cause micro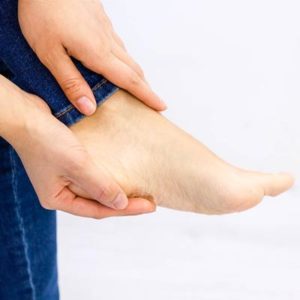 tearing in the ligament. As tension and tearing increases, so does inflammation and irritation in the heel. Risk factors to develop plantar fasciitis include weight gain, prolonged walking and running, a tight Achilles tendon and abnormal foot function.Heel pain
The most common symptom of plantar fasciitis is sharp pain in the bottom of the heel. Many patients refer to this pain as a "stone bruise" type of pain. The pain is usually worse first steps in the morning and after standing for a long period of time. Many times, the pain eases after walking or stretching but may worsen as the day goes on.
How To Treat Plantar Fasciitis:
Rest the heel and limit activities that make your heel hurt.
Reduce pain and swelling by icing the affected area three times a day x 20 minutes.
Stretch your heel throughout the day, especially when you first wake up in the morning and after sitting for extended periods.
Wear shoes that provide good arch support and a cushioned sole such as tennis shoes. Try to avoid barefoot or stocking feet walking, even in the house.
If conservative treatments aren't effective or your heel pain persists for more than a few weeks, schedule an appointment with Corsicana Foot & Ankle to discuss your symptoms and treatment options. Dr. Petty can recommend an appropriate treatment plan to get you walking pain free again. This may include, stretching exercises, shoe padding, orthotic devices, night splints or physical therapy. Visit us at Corsicana Foot & Ankle for a proper diagnosis and an appropriate treatment plan for your individual needs.
The information provided in this article is not meant to be medical advice and is for educational purposes only. If you would like to learn more about topics related to podiatry, feel free to contact Family Foot & Ankle Centers by clicking here or calling 972-597-4132 to reach our Waxahachie office, 903-872-9910 to reach our Corsicana office or 972-875-3668 to reach our Ennis office.