A Gout Guide: What It Is, What Causes It and How to Treat It
Gout seems like an ancient problem but it most definitely is not. It is a painful, modern disease and can lead to serious damage if left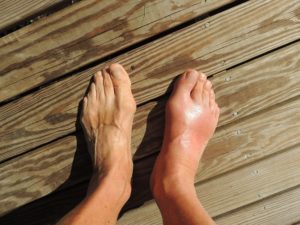 untreated. Below we will give you a gout guide to causes, symptoms and treatment.
Symptoms
Swollen, painful joints that makes it hard to walk and becomes hot.  
Severe inflammation of the joints that can look and angry.
Redness, swelling and temperature in the big toe is the most common finding.
Gout Triggers 
There are different triggers that cause this condition to flare up and most are caused by diet and bodily functions. Of course, sometimes an attack can't be avoided due to medical or family history. Below are a few ways different gout triggers can be avoided. 
Avoidable Triggers
Obesity– The overproduction and accumulation of uric acid can lead to the uric acid settling in the feet.
Eating purine-rich food– seafood and certain meats are high in uric acid and build up can cause gout.
Alcohol– consumption of alcohol causes uric acid levels to rise in blood.
Unavoidable Triggers
Family History– Gout is associated with genetics.
Age– men between the ages of 30-50 and women that have gone through menopause have a slightly higher chance of getting gout.
Medications– certain medicines that treat high blood pressure, chemotherapy, and blood thinners can cause an accumulation of uric acid.
Gout Treatment 
There are a few different ways that this painful condition can be treated. This includes medically and through taking the precautions to avoid the things that cause it in the first place. 
Available Treatment Options
Medication and treatment– there are certain types of medications and treatments that can help eliminate gout if the problem isn't stemming from avoidable triggers.
Personal changes– Maintaining the ideal weight and reducing purine-rich food can help cut the chances of suffering an attack. Drink plenty of water.  Without water the uric acid levels in the body rise even higher and can lead to more frequent attacks
Rest– During an attack, rest the foot so that it doesn't get further inflamed 
Gout can be painful and harmful to your joints. If you suffer from painful attacks, call our medical professionals to help you get back on your feet. 
The information provided in this article is not meant to be medical advice and is for educational purposes only. If you would like to learn more about topics related to podiatry, feel free to contact Family Foot & Ankle Centers by clicking here or calling 972-597-4132 to reach our Waxahachie office, 903-872-9910 to reach our Corsicana office, or  972-875-3668 to reach our Ennis office.